A big part of keeping your users satisfied is great customer service. This involves communicating with users and helping them resolve any issues they encounter. As your business grows, so does your number of customers, which can make handling all their requests very difficult.
In times like these, it helps to adopt a tool like Intercom, which allows you to automate customer communication with AI chat bots. Since the tool is quite popular, many third-party platforms like
Bugpilot
support Intercom integration. Curious? Read on to find out more.
What is Intercom integration?
Intercom integration is simply where you connect Intercom to other tools, such as
bug-tracking software
, allowing them to work together. This makes your work process more seamless since you don't have to switch between apps constantly.
Why are Intercom integrations important?
Improves team efficiency and customer engagement
They increase work efficiency since you're able to receive more support from features not available on Intercom. For example, you can integrate with Bugpilot to
get comprehensive bug reports
delivered straight to your help desk.
Elevate experiences to create loyal customers
You can improve customer experience through tool integrations. For instance, since
96% of users do not report bugs
, make the process easier to do with an integrated widget.
Close more deals faster
Integrations help you shorten user journeys to increase the chances of conversion. Gain insights into user behavior so you know what to improve.
Features to consider when selecting software to integrate into Intercom
Integration compatibility
Your chosen software should be compatible with Intercom's tech stack, including frameworks and API, to avoid functional errors.
Session replays
Session replays aren't available on Intercom, so it's important to choose software that does if you want insights into user engagement.
Levels 2 and 3 customer support
Intercom doesn't provide escalations for customer support, so you'll need an integration for level 2 and 3 support (addresses more complex requests).
Best Intercom integrations for elevating your customer satisfaction
Intercom is a great tool, but it's even better with third-party integrations. You're able to do so much more, but how do you choose the right software when there are so many? Luckily for you, we've put together a list of the best Intercom integrations to save you the hassle.
If you're short on time, here's a brief look at the tools we'll be discussing:
BugHerd: Best for managing website feedback
Usersnap: Best for collecting customer feedback
#1 Bugpilot: Best for fast bug resolution
Bugpilot is a bug-reporting tool that automates the bug resolution process, so you have more time to build new features. Integrate easily with your help desk, and use our
auto-generated detailed bug reports
to understand your issues and fix them quickly. With our AI-assisted troubleshooting, you can also uncover hidden bugs and eliminate the need for manual bug-hunting.
Key features
Screen recording: Watch and replay user sessions to learn how to replicate issues accurately.
Technical reports: Receive technical bug reports, which include all the details you need to reproduce the issues. This includes network requests, cookies, console logs, and more.
Automated troubleshooting: Bugpilot detects potential bugs for each user session and gives you a description, possible causes, and a copy-paste solution.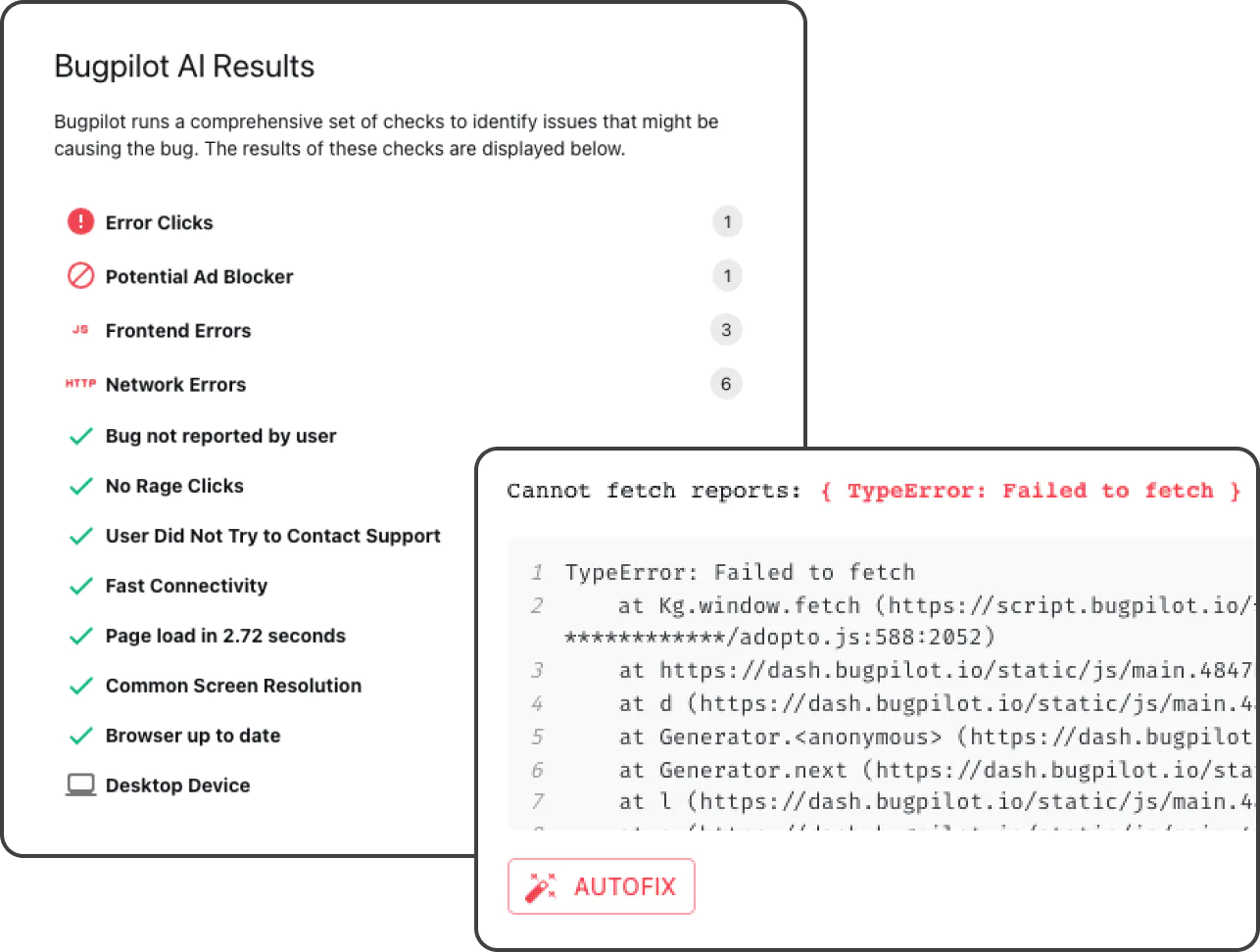 Widget: Integrate our reporting widget into your app or chatbot to make bug reporting easy for users.
Pricing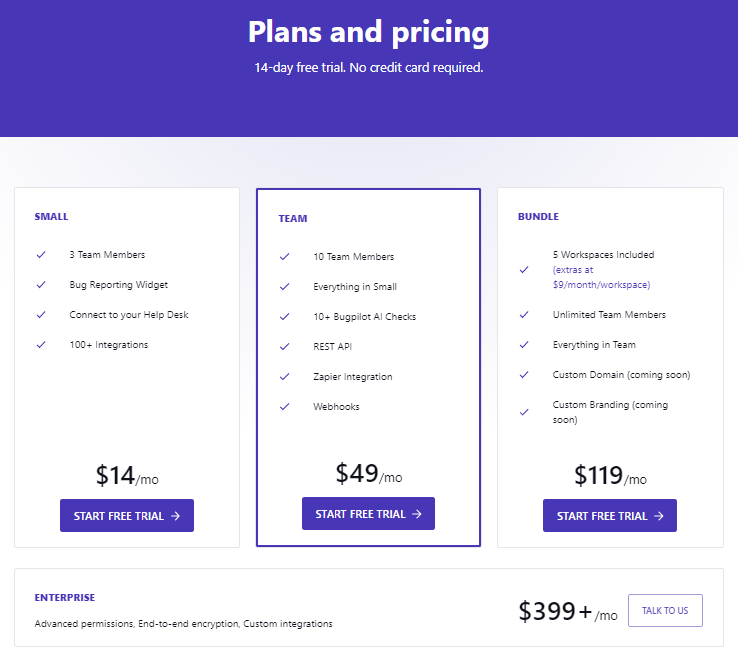 There are 4 plans on offer:
Enterprise ($399+/month — custom pricing)
For the cheaper plans, you have limited team members, 100+ integrations, and AI checks. The pricier plans, however, provide you with unlimited team members, unlimited workspaces, and custom integrations.
Pros and cons
Pros:
AI-assisted troubleshooting
Integrates with your help desk
Auto-generated bug reports
100+ integrations available
Automates expensive parts of bug resolution
View user screens in real-time
Cons:
Unlimited workspaces only available for Enterprise
#2 BugHerd: Best for managing website feedback
BugHerd is an easy-to-use visual feedback and bug-tracking tool. You can collect and organize your feedback to quickly identify actionable requests. They place your website feedback on visual blocks similar to sticky notes for easy viewing, saving you from hours of wading through unclear comments.
Key features
Visual feedback: BugHerd pins your feedback to page elements so they're easy to go through.
Technical information: BugHerd documents technical information you'll need to resolve bugs, such as OS, browser, and more. You can also include screen recordings or screenshots and describe the feedback, so your team fully understands the context.
Kanban: You can send feedback to your Task Board, which adopts a Kanban-like structure so it's easy to manage and action user requests.
Pricing
BugHerd offers 5 plans:
Enterprise (custom pricing)
As you upgrade your plan, you receive higher member limits, more storage, and more integrations.
Pros and cons
Pros:
Unlimited guests & projects for every plan
Automatically documents technical information
Additional members available
Cons:
Limited members for every plan except Enterprise
Limited storage for all plans except Enterprise
#3 Usersnap: Best for collecting customer feedback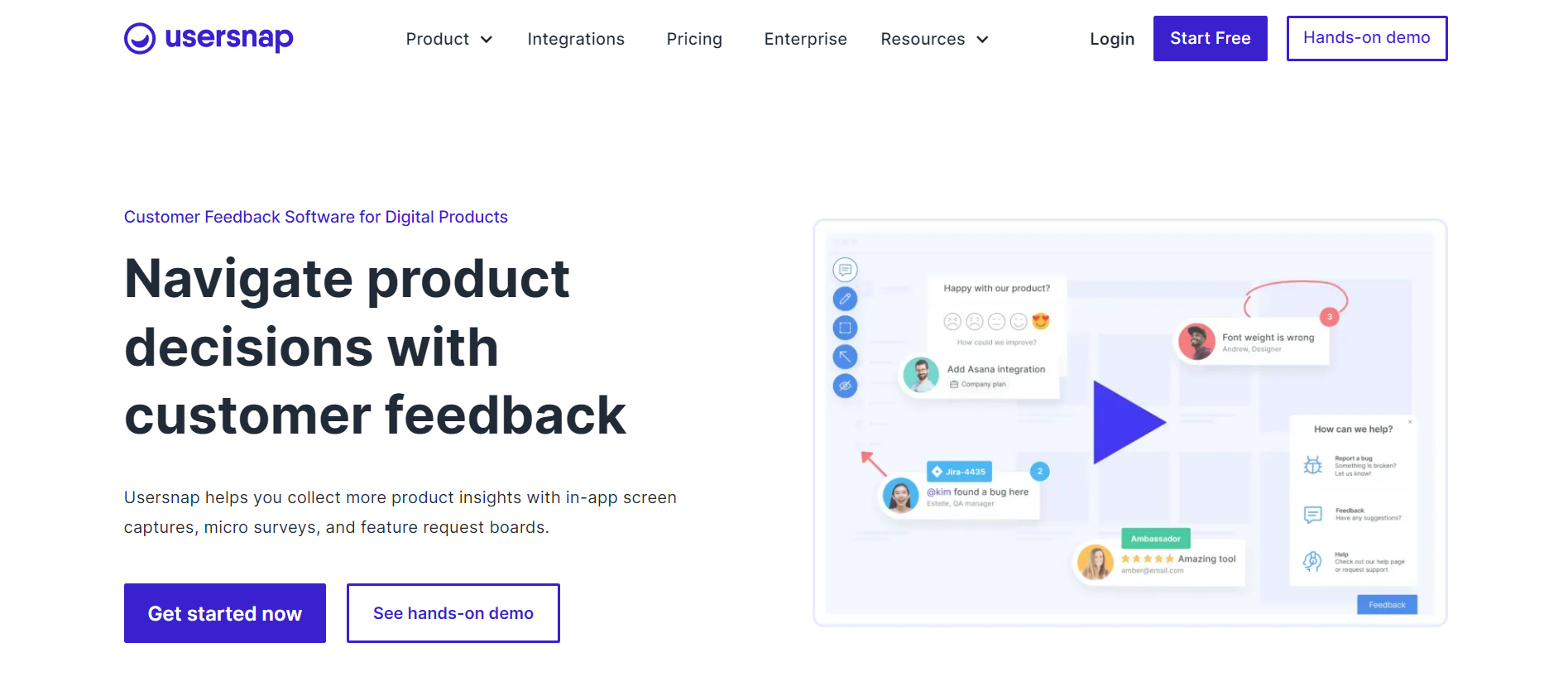 Usersnap is a customer feedback tool for collecting product insights through screen capture, surveys, and request boards. You can also test products with beta users before officially releasing them and track bugs to fix issues faster.
Key features
Feedback menu: Encourage users to leave feedback with a feedback menu widget. Customize the design to your liking.
Screen captures: Users can send you screen recordings and annotated screenshots to help you identify bugs.
In-app surveys: Target audience segments with surveys at the right time to get more specific feedback.
Pricing
Usersnap has 4 pricing options:
The cheaper plans have limited members and projects but offer all the basic feedback tools, such as the feedback menu widget, screen capture, and surveys. The higher-priced plans get rid of those limitations and offer mobile app surveys, workspaces, and custom translations.
Pros and cons
Pros:
Cons:
Limited widget customization
#4 LogRocket: Best for product analytics
LogRocket combines product analytics, bug tracking, and session replay to help you create the best digital experience. They collect user experience data across both mobile and web apps, allowing you to discover issues and better understand your customers.
Key features
Session replay: Replay user sessions and learn how to recreate every one accurately. You can highlight events and errors and share sessions with your team.
Product analytics: Visualize user behavior with conversion funnels, path analysis, and retention charts to see where users churned.
User experience analytics: See how users engage with your app and identify moments of frustration or confusion with heatmaps, scroll maps, click maps, and more.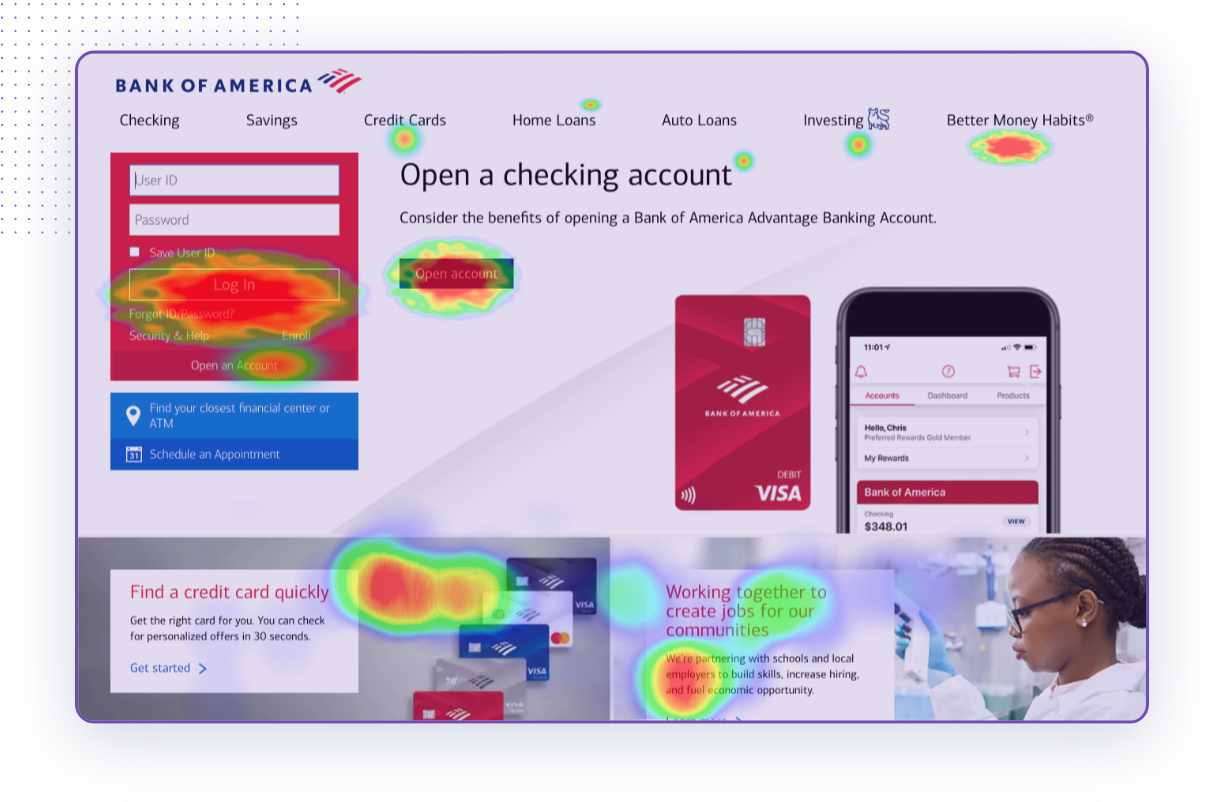 Pricing
LogRocket has a separate set of plans for mobile and web, respectively. Each set consists of a free plan and 3 paid plans:
Team ($99/month or $199/month for mobile)
Professional ($550/month or $660 for mobile)
Free features include screen capture and error tracking whilst paid features include product analytics, user experience analytics, and ML-powered error tracking.
Pros and cons
Pros:
A large variety of features
A high amount of monthly sessions
Cons:
No analytics for free plan
Many features only available for Professional and Enterprise
#5 Statuspage: Best for incident communication
Statuspage allows you to communicate incidents to your users in real-time through status pages. Proactively let them know when errors or downtime occur to reduce the number of support tickets and alleviate customer concerns.
Key features
Core features: Every status page has access to status updates, powerful integrations, and scheduled maintenance.
Notifications: Notify customers and employees via SMS or email when your service is down.
Uptime and performance: Automatically showcase your uptime history on your status page to be transparent with customers and build trust.
Pricing
Statuspage has different plans available depending on what type of status page you want. Only public pages have a free plan, but both public and private pages offer 4 paid plans:
Hobby ($29/month or $79/month for private)
Startup ($99/month or $249/month for private)
Business ($399/month or $599/month for private)
Enterprise ($1,499/month)
For audience-specific pages, there's only a custom plan available (starts at $300/month).
As you upgrade your plan, you get more subscriber and team member slots, more metrics, and more types of notifications.
Pros and cons
Pros:
Multiple types of notifications
Role-based access control
Displays historical uptime & latency
Customizable status pages
Public & private pages available
Cons:
Scalable plan only available for audience-specific pages
Conclusion
Intercom is a well-known customer service tool, but it has limited usage on its own. Luckily, you can integrate it with many third-party tools, such as
Bugpilot
, to get access to more features and elevate customer satisfaction.
Here at Bugpilot, we strive to simplify the bug resolution process by automating the most expensive parts.
Start your free trial today
to begin resolving bugs 2x faster.