Jira has long been a popular choice for Agile project management, offering a robust set of features for issue tracking and collaboration.
You don't need Jira in 2023!
However, nowadays modern teams find it too complex, expensive, or not quite suited for their needs. In this blog post, we will explore the top 3 Jira alternatives that offer similar project management capabilities, and help you decide which one might be the best fit for your team.
1. Trello - Simplicity at its finest
Trello is a visual project management tool that uses boards, lists, and cards to help teams organize their work. It is an excellent choice for teams that prefer a more straightforward and intuitive interface compared to Jira. Trello is the simplest of all alternatives to Jira.
Key Features:
User-friendly, drag-and-drop interface
Customizable boards, lists, and cards
Easy collaboration with team members
Power-Ups for added functionality (e.g., integrations with other tools, automation, etc.)
Pros:
Free plan available with basic features
Flexible enough to accommodate various workflows
Cons:
Limited in terms of advanced project management features
Might not be suitable for large, complex projects
Pricing: Free plan available, with paid plans starting at $5/user/month
2. ClickUp - Productivity tool
ClickUp is a relatively new contender in the project management space but has quickly gained popularity for its flexibility, rich feature set, and competitive pricing.
Key Features:
Multiple views (list, board, calendar, etc.) for different project management styles
Customizable dashboards for an overview of project progress
Time tracking and reporting features
Built-in integrations and automation capabilities
Pros:
Highly customizable and flexible
Affordable pricing, including a free plan
Offers advanced features for comprehensive project management
Cons:
May have a steeper learning curve due to its many features
Interface can be overwhelming for new users
Pricing: Free plan available, with paid plans starting at $5/user/month
---
Are you looking for a Bug Tracker?
Bugpilot
is a tool that automatically detects bugs,
collects all bug-related information
, and instantly troubleshoots it for you. With Bugpilot your team will:
Skip asking questions like "What happened?", "Can you send me a screenshot?", and the rest 5-10 questions you usually ask to understand what happened. All the details are already inside your Bugpilot report.
Skip manually creating bug tickets. Bugpilot automatically collects screen recordings, logs, user and environment info, network information, and more.
Get automatically notified when a bug occurs. Bugpilot automatically checks your app for frontend errors, failed network requests, rage clicks, and more.
Make it for your users to report bugs. With Bugpilot even your non-tech-savvy users will report detailed bug reports.
Fix bugs 2x faster with Bugpilot
---
3. Linear - Opinionated and fast
Linear is a modern project management platform designed for Agile teams that value speed, simplicity, and a seamless user experience. With its minimalistic interface and keyboard-driven navigation, Linear aims to eliminate distractions and boost productivity.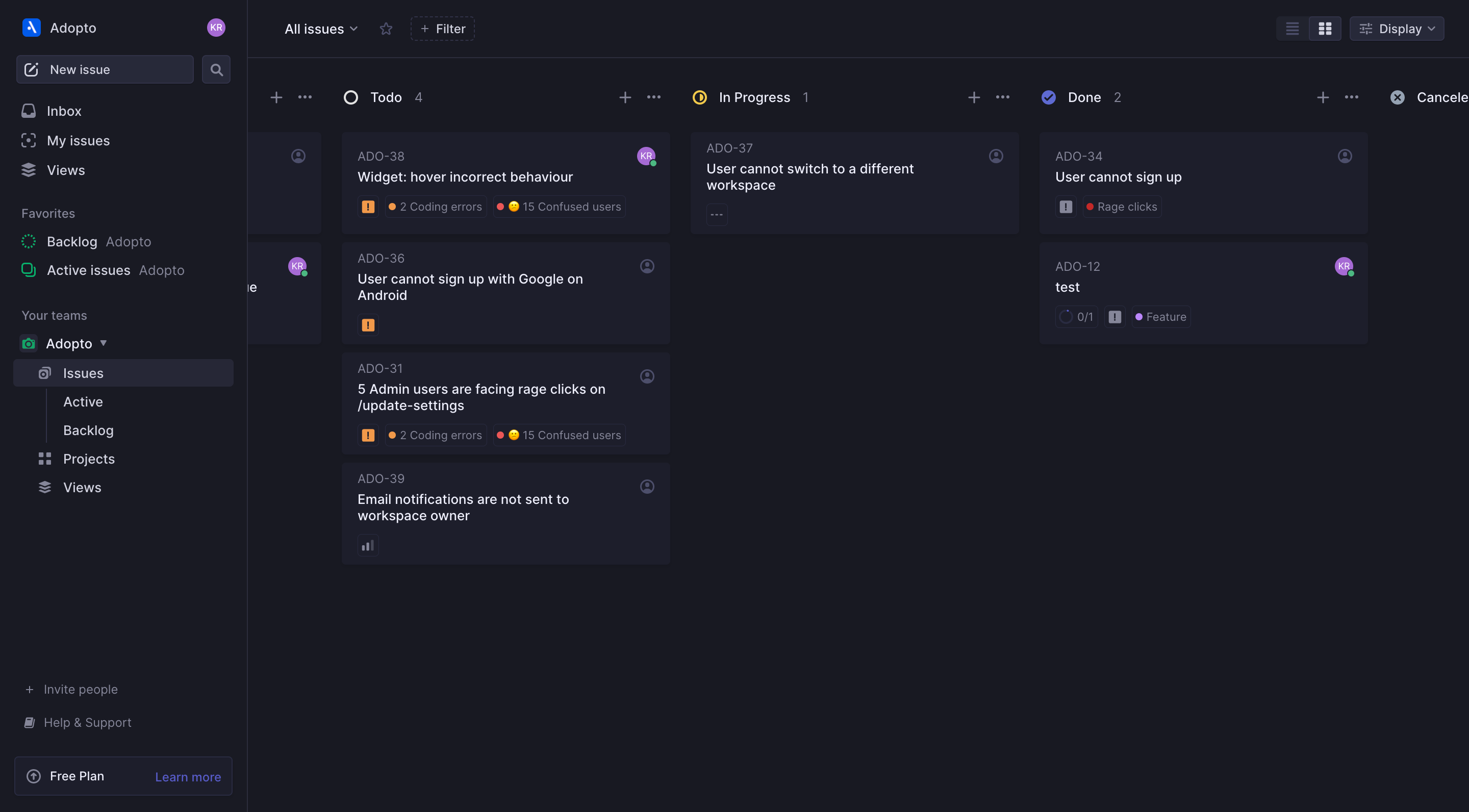 Key Features:
Flexible issue tracking with custom labels, priorities, and estimates
Multiple views, including lists, boards, and calendars
Sprint planning and tracking, as well as roadmaps for high-level project overview
Integrations with popular tools like GitHub, Slack, Figma, and Sentry
Extensive set of keyboard shortcuts and commands for efficient navigation
Pros:
Clean, minimalistic interface that promotes focus and productivity
Intuitive user experience and easy learning curve
Built with Agile methodologies in mind
Strong emphasis on speed and keyboard-driven navigation
Cons:
May lack some advanced features found in more established project management tools
Pricing might not be as competitive for larger teams
Pricing: Linear offers a free plan with up to 250 issues, with paid plans starting at $8/user/month.
Conclusion
When it comes to choosing an alternative to Jira, Trello, Linear, and ClickUp all offer powerful project management features that cater to different needs and preferences. Trello is best for teams looking for a simple, visual approach. ClickUp is an excellent choice for those who need a highly customizable and feature-rich tool. Linear is opinionated, and provides fast and smooth experience.
Ultimately, the best Jira alternative for your team depends on your specific requirements, budget, and project complexity. Be sure to explore each tool's features, pricing, and user experience before making your decision.