Every business aims to please its customers, but that's difficult if you're unsure of what they want. That's why user activity monitoring tools like FullStory can come in handy.
However, no one tool is perfect for everyone, and FullStory has its flaws. Luckily, there are many alternatives you can use instead, such as
Bugpilot
, which specializes in bug reporting. We'll be going through some of these alternatives in this article, but let's first explain what FullStory does.
What is FullStory?
FullStory is an online tool that lets you track user activity in order to gain insight into their behavior. With session replays and heatmaps, you can monitor customer journeys and see how customers interact with your platform.
Benefits of using user activity monitoring tools
Minimize customer churn
You can quickly discover user struggles and fix them to reduce customer churn.
96% of users do not report bugs
, so it's up to you to identify them through activity monitoring.
Growth opportunities
With behavioral insights, you can make better business decisions to satisfy customers and drive conversions.
Reduces revenue loss
Criteria to consider when choosing user activity monitoring tools
Range of supported tech stacks and scalability
Make sure your chosen tool integrates well with your platform's tech stack and supports the right coding languages.
Ease of setup
The best monitoring tools should be easy to set up so you can quickly get to tracking user activity. Tools that are difficult to set up are likely hard to navigate and use overall.
Range of third-party integrations & collaboration techniques
It should support a variety of third-party integrations in case you decide to change or adopt a new tool. You should also be able to collaborate or communicate with your team members.
Best FullStory alternatives and competitors for user activity monitoring
Whilst FullStory is home to many useful tools, it has its limitations and may not be right for your business. Finding the right alternative means a lot of research on your part, but we've decided to make this easier on you by doing the research ourselves.
Here, we've got a comprehensive list of Fullstory alternatives and competitors to satisfy your activity monitoring needs. Get a quick look at the tools we'll be discussing below:
Bugpilot: Best for quick bug resolution & automation
Heap: Best for fast digital insights
Pendo: Best for all-in-one software management
#1 Bugpilot: Best for quick bug resolution & automation
Bugpilot is an
error monitoring software
that specializes in bug reporting and automation. We automate and streamline the most expensive parts of the bug resolution process, allowing you to focus on improving your SaaS platform with new features.
Receive AI-assisted support when troubleshooting and discover hidden bugs with ease. We also integrate with your help desk, so you can view detailed,
comprehensive bug reports
without leaving your software.
Key features
Technical bug reports: Bugpilot automatically generates bug reports using screen recordings, console logs, failed network requests, UX issues, and more.
Integrate with your help desk: Integrate Bugpilot with a variety of tools, including your help desk, Intercom, Slack, and many more.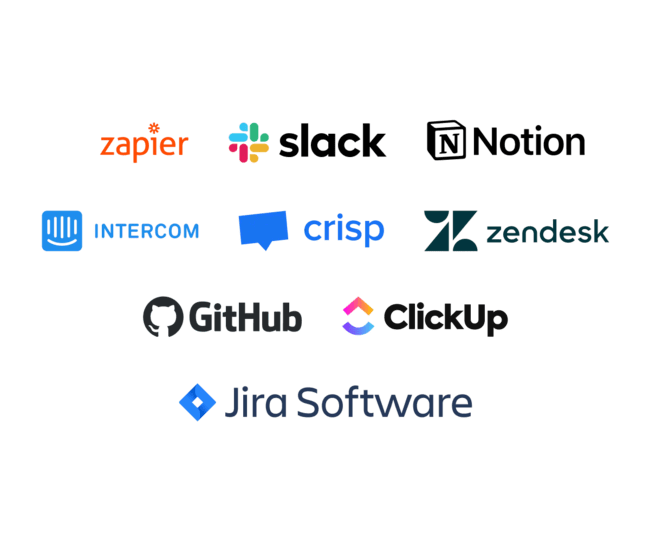 Session replays & live screen: Replay user sessions to identify and recreate bugs easily. You can also view a user's screen live to receive instant feedback and troubleshoot bugs in real time.
Automatic bug detection: Our AI troubleshooting automatically discovers hidden bugs, such as UX errors, JavaScript issues, browser problems, and so on.
Easy bug reporting: Add our simple reporting widget to your software or chatbot to make bug reporting easier for users.
Pricing
Bugpilot offers 4 pricing plans:
Enterprise ($399+/month — custom plan)
The cheaper plans have limited team members and offer the bug reporting widget and various integrations. Meanwhile, the more expensive plans include workspaces, unlimited team members, and custom integrations.
Pros and Cons
Pros:
Short setup process (10 minutes)
Automates expensive parts of bug resolution
AI-generated detailed bug reports
Lots of third-party integrations
Wide range of prices (suitable for both small and large businesses)
Streamlines bug resolution process
Automatic screenshots of user activity
Live screen (see user screens in real-time)
Cons:
Mainly offers tools for bug resolution
#2 Mouseflow: Best for User Behavior Analytics
Mouseflow is an analytics tool that gives you detailed insights into customer behavior, so you can discover ways to enhance their experience. With heatmaps, session recordings, and feedback, they formulate actionable data reports for you to analyze.
Key features
Session Replays: View how your users interact with your software to get a sense of their user journeys. Frustrated users are also highlighted, so you can quickly locate them.
Heatmaps: Visualize user engagement through heatmaps to see where users clicked the most, how far they scrolled, and so on.
Funnels: Create custom funnels to measure every step of the user journey in terms of visits, drop-out rate, conversions, and page friction.
Pricing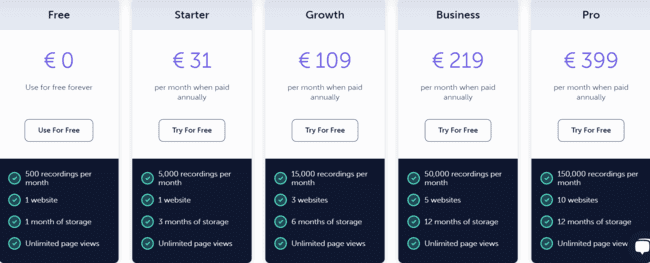 Along with a free plan, Mouseflow also offers 4 paid plans and a custom plan:
Enterprise (custom pricing)
The free plan comes with 500 recordings a month, unlimited page views, 1 month of storage, and 1 website. The paid plans, on the other hand, provide over 5000 recordings a month, 10+ websites, and up to 12 months of storage.
Pros and cons
Pros:
Unlimited page views with every plan
Easy to locate frustrated users
Cons:
Free and Starter plans are limited to 1 website
Lots of limitations for every plan except Enterprise
Various features are only available for Enterprise
#3 Amplitude: Best for monitoring user journeys
Amplitude allows you to view entire digital user journeys across devices and channels so you can identify what drives conversions. Look at conversion paths, drop-off paths, and detailed funnel analysis reports to get a deeper understanding of your customer behavior.
Key features
Funnel analysis: Build custom multi-step funnels to visualize common user paths. You can also take a closer look at user journeys by viewing conversion paths or drop-off paths to see exactly what led them to convert or churn.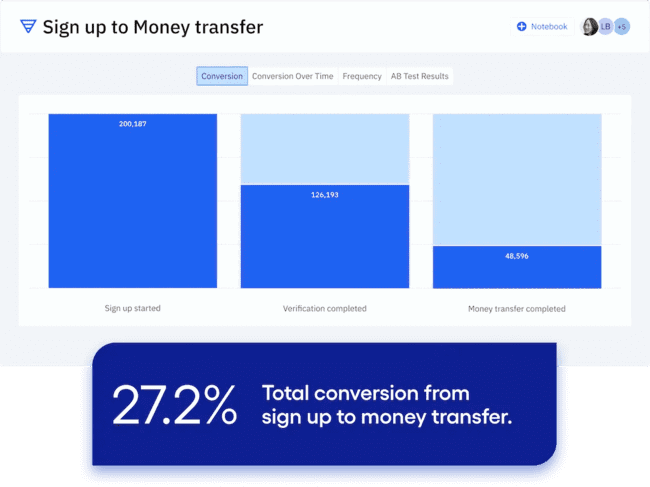 Integrated A/B Testing: Test features with specific user segments and visualizes results to make it easier to spot trends.
Define dynamic audience segments: Build audience lists using customer behavior, profile data, product data, and more.
Pricing
Amplitude has four sets of pricing plans for their four products:
Amplitude Analytics (free plan, growth plan — $995/month, custom plan)
Amplitude Audiences (2 custom plans)
Amplitude Experiment (1 custom plan)
Amplitude CDP (1 custom plan)
Their free plan includes core analytics charts and unlimited users, whilst their paid plans offer advanced behavioral analytics, casual insights and monitoring, and audience management.
Pros and cons
Pros:
Conversion & drop-off paths
Cons:
No cost transparency on their pricing page
Must pay for multiple plans to get access to all features
#4 Heap: Best for fast & accurate digital insights
Heap is a digital insights tool that uses automated data science to give more accurate insights into user journeys. They can quickly find trends or patterns in customer behavior and automatically discover hidden insights you might've missed.
Key features
Autocapture: They automatically record entire customer experiences for every user. This works on both the web and mobile.
Data science: Heap's powerful data-science feature easily locates hidden friction points and opportunities, even for behaviors you're not tracking.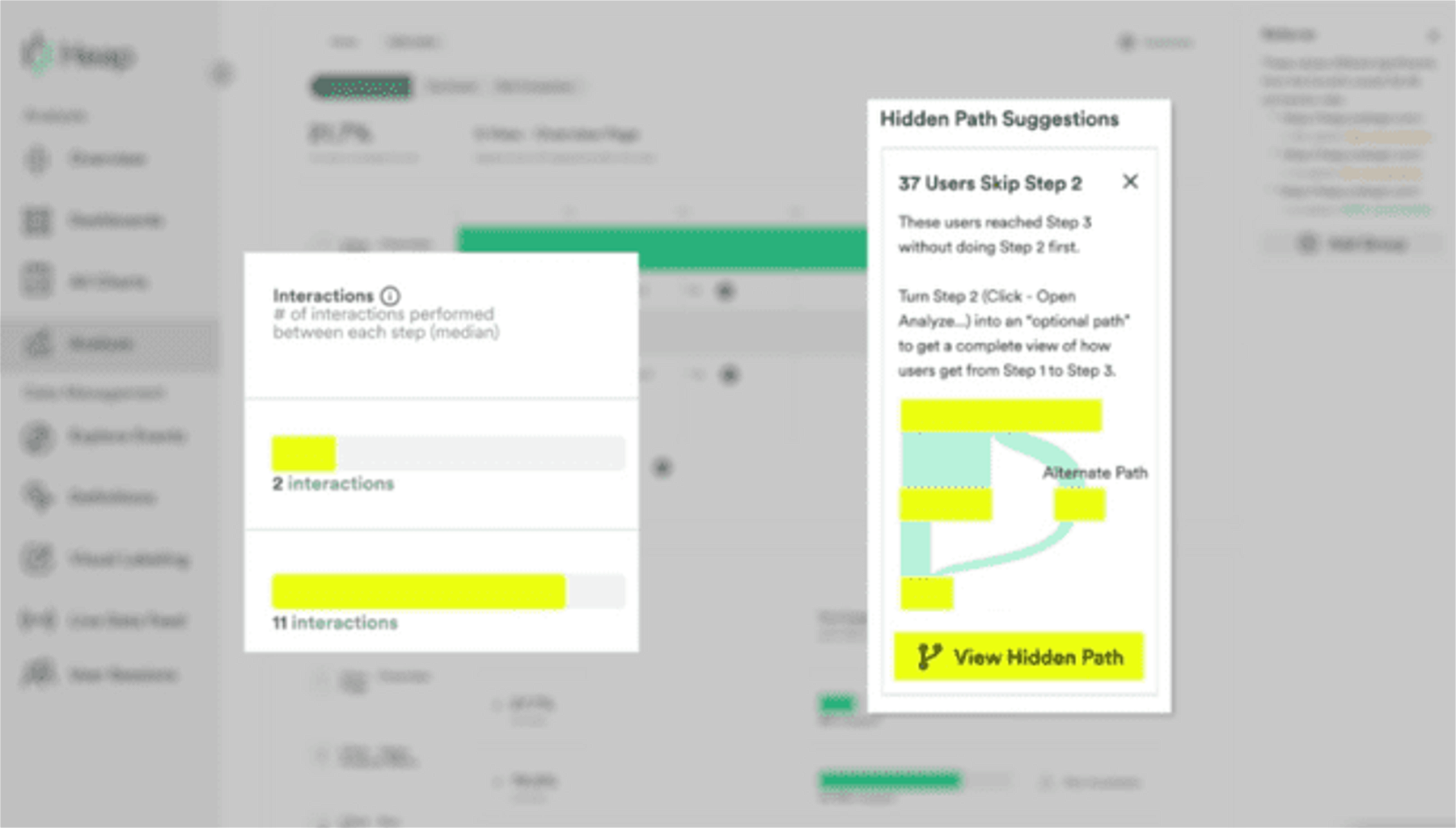 Session replay: Heap directs you to key moments of friction in user sessions so you can easily locate important interactions.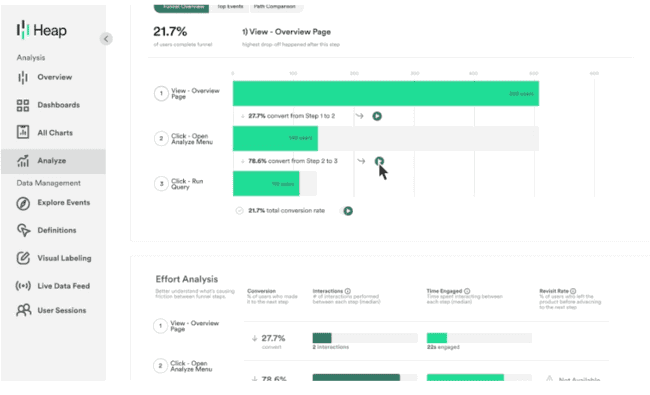 Pricing
Heap provides a free plan, a paid plan, and 2 custom plans:
Growth (starts at $3600/year)
Free features include 1 project, standard analysis, automatic data foundations, and 10,000 monthly sessions. With their paid plans, you get advanced analysis, more data history, and unlimited projects.
Pros and cons
Pros:
High amounts of monthly sessions
Cons:
Unlimited projects only available for Premier
No cost transparency on pricing page
#5 Pendo: Best for all-in-one software management
Pendo is an all-in-one platform that combines product analytics, feedback, and in-app guides to help you create great digital experiences. You can elevate your software adoption and time to value (TTV) to drive growth and customer retention.
Key features
Analytics: Discover how users engage with your software and see which features are valued the most. You can also view user paths to identify where users drop out.
In-app guides: Provide users with personalized guidance at the right time to speed up onboarding and adoption.
Feedback: Receive customer feedback in-app and analyze it based on spend, segment, and tags.
Pricing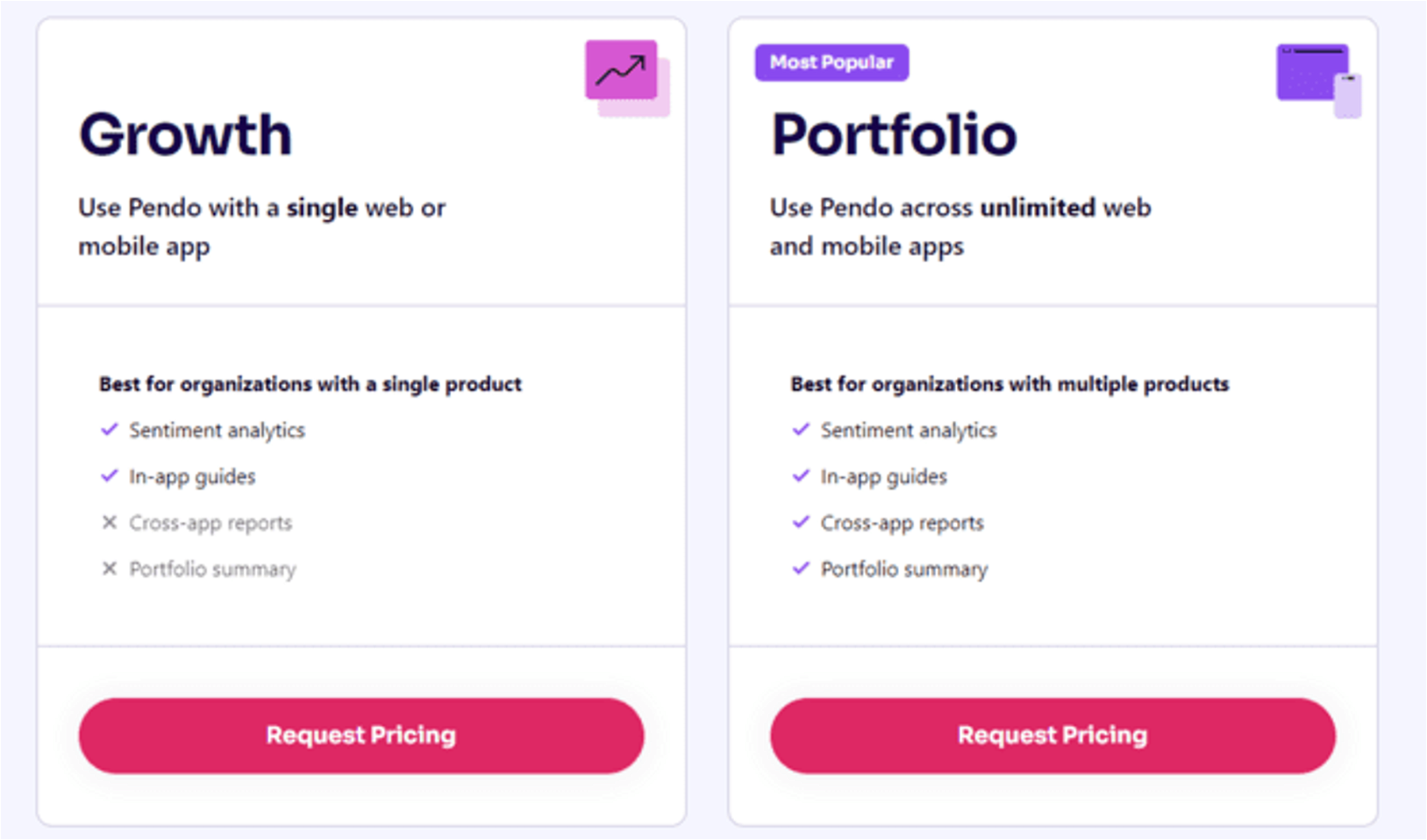 Pendo has a free plan, a paid plan, and 2 scalable plans:
With their free plan, you get access to product analytics and in-app guides whilst their paid plans provide cross-app reports and sentiment analytics.
Pros and cons
Pros:
Cross-app journey reports
High amounts of monthly users
Lots of features available on free plan
Cons:
Limited websites and apps for all plans except Portfolio
Conclusion
In order to retain customers, you need to understand what they want. Tracking user behavior with FullStory can help in this regard, but the tool isn't for everyone. There are many alternatives available, but if you're looking for a tool specialized in bug resolution —
Bugpilot
is the answer.
Here at Bugpilot, we automate expensive parts of bug resolution to make the process much more efficient.
Start your free trial today
to begin resolving bugs at 2x the speed.